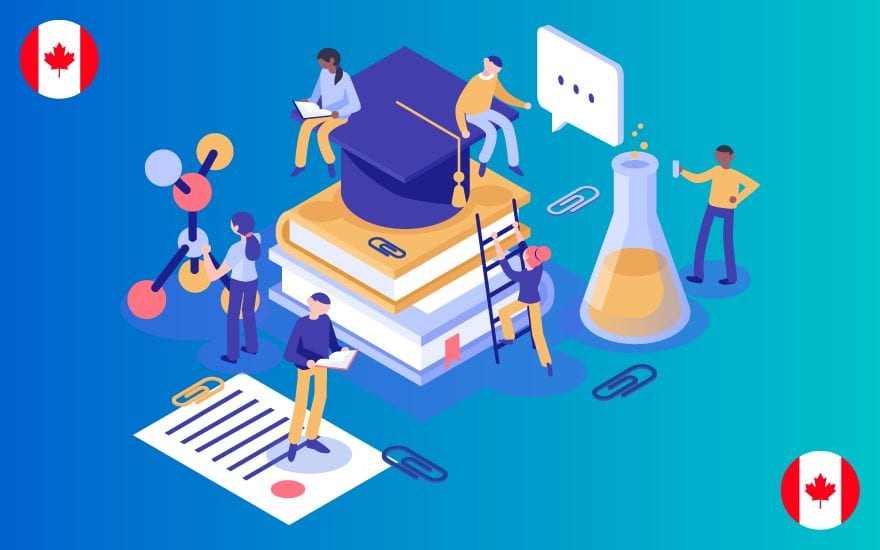 Canadian Study: Guide for International Students
Due to its renowned universities and welcoming culture, Canada is a popular choice for international students seeking higher education. However, navigating the Canadian educational system as an outsider can be difficult, particularly if you are not familiar with the country's culture or educational practices. In this article, we'll go over some important things to think about if you're an international student looking to pursue higher education in Canada.
Before pursuing a degree or diploma in Canada, one must first have a basic understanding of the educational system.
The Educational System
Colleges and universities are both part of Canada's world-renowned high-quality educational system. The educational system at Canadian colleges and universities is known for its high standards of excellence, and it is created to provide students with a wide range of academic and vocational programs.
Students in the Canadian college system receive practical, hands-on training that equips them for the workforce. College programs typically last between a few months and two years, and unlike universities, they award diplomas and certificates rather than degrees. They are thus a desirable choice for students who want to acquire useful skills quickly and enter the workforce.
The provinces and territories of Canada are in charge of regulating and accrediting educational institutions, and they are also in charge of overseeing the country's educational system. Since all colleges and universities in Canada are held to the same high standards of excellence and quality, standards for educational institutions may vary slightly from province to province.
The Canadian college system's emphasis on practical, hands-on training is one of its main advantages. Work-integrated learning opportunities, such as co-ops, internships, and apprenticeships, are common in college programs and give students the chance to gain practical experience in the fields they are interested in. Employers place a high value on this practical training, which can give graduates an advantage over other candidates when applying for jobs.
Colleges in Canada offer academic programs in many different disciplines, including business, engineering, health care, and technology, in addition to vocational training. These courses can get students ready for more in-depth studies at the university level and give them a strong foundation in their chosen field.
The affordability of the Canadian higher education system is another strength. College programs are typically more affordable than those at universities, and many colleges provide scholarships and bursaries to help students with living costs and tuition.
The ability to transfer credits is one of the special features of the Canadian educational system. Many colleges and universities have articulation agreements, allowing students to apply their college credits toward a university degree. As a result, students have a flexible path to higher education and can start their studies at the college level, saving them time and money.
Now, for your ultimate guide to navigating the Canadian education system as an international student:
Admission Requirements
To find your way around the Canadian educational system, you need to start by learning about the admission standards for the schools and programs you're interested in. Canadian universities typically require international students to demonstrate their proficiency in either English or French, which are the official languages of Canada. You may need to submit your language proficiency results from standardized tests such as the TOEFL, IELTS, or CAEL. Universities may also request academic transcripts from earlier coursework as well as documentation of financial support for tuition and living costs from international students.
Remember that depending on the university and program, admission requirements can change significantly. Some programs might demand extra entrance tests, interviews, or portfolios. Understanding the admission requirements for the universities and programs you are interested in is the first step in navigating the Canadian educational system. The majority of universities demand that international applicants prove their proficiency in either English or French, Canada's official languages. To demonstrate their language proficiency, international students may be asked to submit their results from standardized tests like the TOEFL, IELTS, or CAEL.
Universities may also request academic transcripts from earlier coursework as well as documentation of sufficient funds to pay for tuition and living expenses from international students.
It is crucial to remember that admission requirements can differ significantly depending on the university and program. Additional entrance exams, interviews, or portfolios might be needed for some programs.
Student Visa and Work Permit
International students who have been admitted to a Canadian university must obtain a student visa to study there. It is crucial to begin the process early because getting a student visa can take a while. International students who want to be granted a student visa must present a letter of acceptance from a Canadian university, documentation of financial support, and a current passport. The authorities might also ask them to present their police and medical clearance documents.
Through a student work permit, international students may be permitted to work while they are studying in Canada. International students may work up to 20 hours per week during the academic year with a student work permit and full-time during breaks like the summer or winter holidays. It is crucial to remember that part-time employment may not be widely available and that there may be competition for roles.
Canadian Academic Culture
International students may not be accustomed to Canada's academic culture in the same way as they are in their native countries. Canadian universities highly value independent learning and critical thinking, and they emphasize the application of knowledge. Professors anticipate that their students will actively participate in class discussions and take charge of their education. Additionally, the professors are approachable and show concern both during and after office hours.
International students may find Canada's grading structure unfamiliar. Canadian universities generally use a percentage-based grading scheme, with grades awarded on a scale of 0 to 100. While some programs may require a higher grade to pass, a passing grade is usually considered to be 60% or above.
Student Support Services
Universities in Canada provide a wide range of student support services to aid foreign students in settling in and excelling academically. Academic counseling, tutoring, language assistance, and mental health services are a few examples of these services.
To make friends and participate in extracurricular activities, international students may also find it beneficial to join clubs and organizations for students. International student organizations are prevalent at universities and provide social gatherings, cultural experiences, and networking opportunities.
Cost of Education
Say it's a wise investment at any time.
Depending on the university and program, the cost of education in Canada can vary greatly. Some programs cost more than $40,000 a year, and international students should expect to pay higher tuition than domestic students. International students must also pay for their living costs, such as housing, food, and insurance, in addition to their tuition.
For assistance with paying for their education, international students may be eligible for scholarships and bursaries. Typically, academic achievement or financial need determines these prizes, which can range from a few hundred dollars to full coverage. Early on in the application process, it's crucial to research available scholarships and their deadlines.
Conclusion,
Being an international student navigating the Canadian educational system can be difficult but rewarding. Understanding admission requirements, obtaining a student visa and work permit, adjusting to the academic culture, utilizing student support services, and managing the cost of education are all crucial factors to take into account. By planning, conducting research, and utilizing the resources available, international students can ensure a fruitful and successful academic experience in Canada.